Tall fescue plus grasses for improved forage quality and yield
To improve forage quality and persistency, choose PLUS grasses. PLUS grasses are high-performing multipurpose grasses bred by crossing fescues with ryegrasses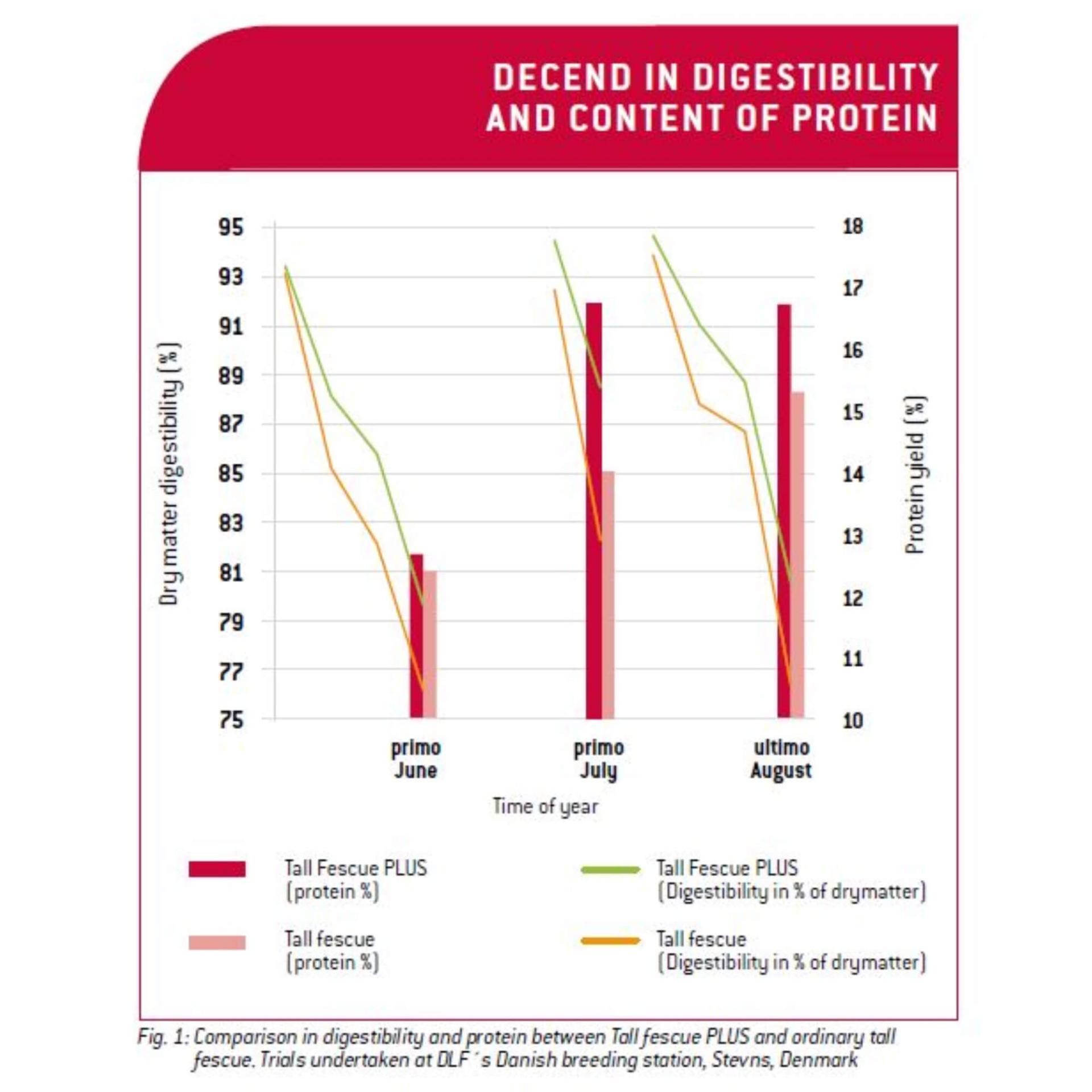 In tests we compared the digestibility and protein content of Tall fescue PLUS against ordinary tall fescue. In all cases, Tall fescue PLUS proved more digestible and contained more protein. The improvements were long-lasting too. As the season progressed, there was noticeably less decline in the quality of Tall fescue PLUS (fig. 1). With Tall fescue PLUS, you get a longer harvesting season without losing out on quality.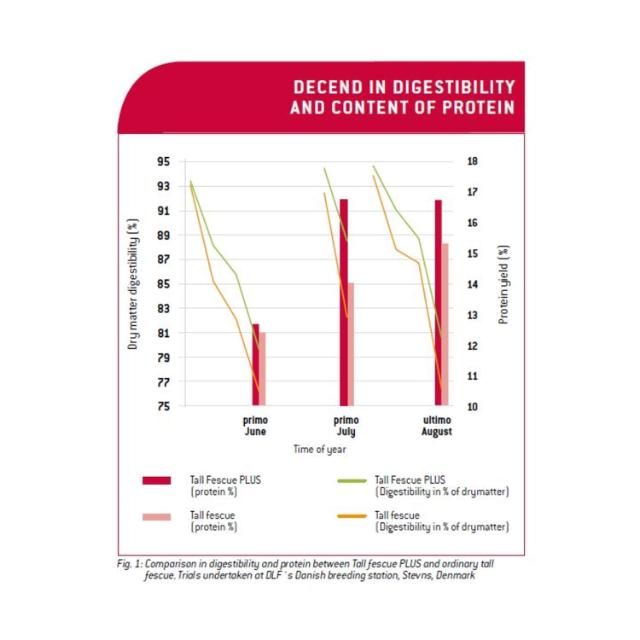 As well as being superbly good forage grasses, Tall fescue PLUS varieties have an ability to stand up to climate change. With their deep and extensive rooting system, they grow well for longer during periods of drought. This is especially helpful if you're farming in a region that's experiencing the effects of climate change.
In fact Tall fescue PLUS varieties give you all-round weather-resistance and forage improvement. They're tolerant of frost, drought and heat, and they combine the best of their two parent species – the persistency of tall fescue with the better feed quality and rapid establishment of ryegrass. The result is a high-quality grass with excellent persistency.
"We are farming in higher altitudes and Tall fescue PLUS is very stress resistant, mainly against drought. This means that Tall fescue PLUS produces forage with high quality also in less favorable conditions."
Leoś Říha, Czech Republic
PLUS grasses for better and more dependable forage
PLUS grasses are a fine example of how our plant breeders develop new high-performance varieties by crossing different species of grass. Using modern technology and insights gained from 35 years of innovation, they create grasses to meet the ever-changing challenges of farming.
With PLUS grasses you will:
Achieve stability over the season
PLUS grasses have resilience to many external factors such as plant disease and drought caused by climate change.
Obtain a higher production per hectare
PLUS grasses have a high dry-matter yield and extend persistency by two years.
Keep feeding your herd during periods of drought
PLUS grasses are ideal for climate challenges. With their deep rooting system, they're better at withstanding dry periods.
Put more carbon into the soil
One further advantage of deep-rooting perennial crops such as PLUS grasses is their potential to sequester carbon in the soil.
Learn more about Tall fescue PLUS
To find out more about the Tall fescue PLUS varieties available in your market, speak to your DLF representative. Or read more about Tall Fescue PLUS on our website.