PLUS grasses - better field value
PLUS-grasses from DLF is one of the great success stories of modern grass-breeding science. Depending on the variety and the growing conditions, PLUS-grasses provides from 5% to 25% more forage, and one to two years' more persistency. Depending on the variety, PLUS-grassess withstand colder winter, drought, and disease - it produces a higher output, per hectare and offers a better feed value compared to tall fescue.
Grow greener forage grasses with PLUS grasses from DLF
Higher forage quality. Excellent tolerance. Better yields. There are plenty of great reasons to give the green light to festulolium.
Festulolium might be one of the greatest success stories of modern grass-breeding science. Nothing less. The not-so-secret recipe is crossing fescues with ryegrasses into new and better grasses combining the best from both sides. This mix of genetics creates impressive results, so let's start growing your knowledge on festulolium.
What exactly is Festulolium?
Before we talk about how and why to use PLUS grasses, it makes sense to coin what festulolium is.
Festulolium is a species of forage grasses bred by crossing fescues with ryegrasses. The various combinations add up a portfolio of all-round grasses each offering unique benefits to meet very specific needs.
To ease the understanding, we divide the festulolium portfolio into two overall grass types with their own unique benefits: Ryegrass PLUS and Tall Fescue PLUS
In recent years, we have really accelerated our focus on developing and harnessing festuloliums by combining the very best from ryegrass and fescues. The result is PLUS grasses, Ryegrass PLUS and Tall Fescue PLUS, giving farmers agricultural advantages.
3 reasons others choose PLUS grasses
PLUS grasses – our varieties of festuloliums – offer a wide range of benefits. Which one is your favourite?
Produce a much higher yield. PLUS grasses provide up to 25% more forage compared to perennial ryegrass and tall fescue.
Grow in challenging conditions. PLUS grasses are characterised by high cold and drought tolerance, rapid establishment, and up to two years' higher persistence than their parent grasses.
Create the best environment. PLUS grasses work perfectly together with other species. This could be clover, timothy, perennial ryegrass, just to name a few.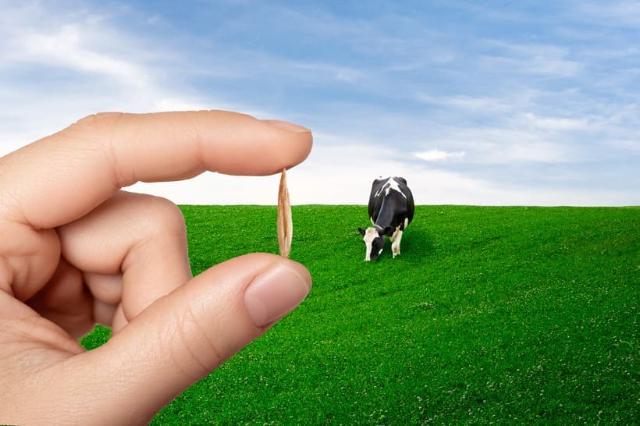 The best from both grasses
If we were to describe the state of the seeds business, it is very much about getting more out of less. Farmers must reduce irrigation and the use of fertilisers. At the same time they are expected to increase productivity and output. This is a major challenge that calls for sustainable grasses offering higher tolerance, resilience and yields.
Our PLUS grasses are highly successful crosses between fescues and ryegrasses. As you know, fescues and ryegrass have different characteristics and qualities. When mixing and matching these qualities, you get a result that will make competitors green with envy.
Ryegrass PLUS offers a wide range of fantastic qualities:
High dry-matter yield
High drought tolerance with a fast developing root system
Prominent persistency in cold areas
Fescue PLUS offers a wide range of fantastic qualities:
Rapid establishment
Higher digestibility
Excellent spring growth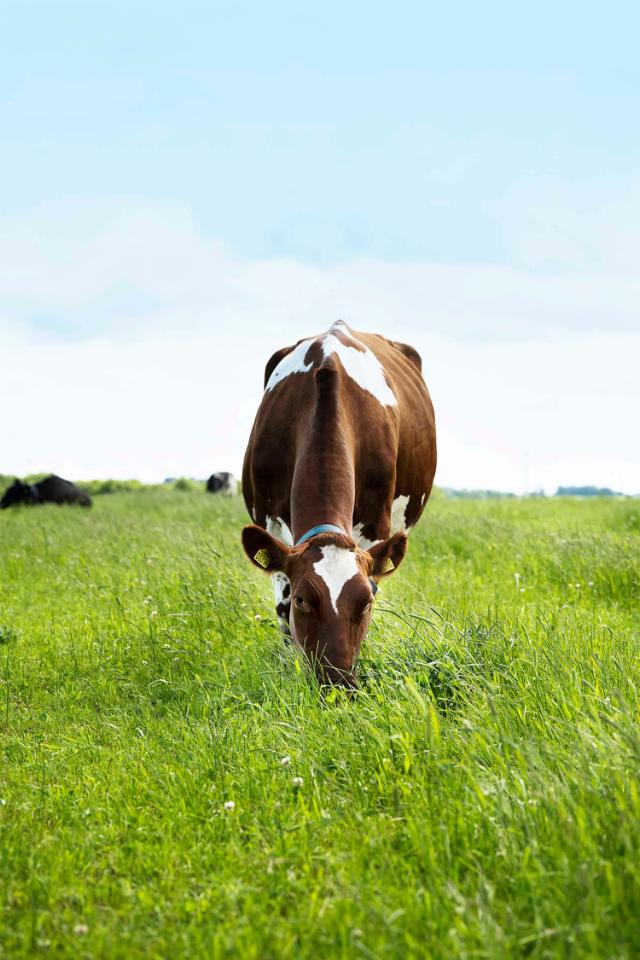 Ryegrass PLUS
For many years, people like us have worked to breed new and better grasses. PLUS grasses are our latest addition to this proud tradition.
Ryegrass PLUS is the result of crossing fescues – Meadow fescue or Tall fescue – with perennial or Italian ryegrass. This breeding is very much about taking the best properties from each grass. It is like a 1+1=3 situation.
Choose Ryegrass PLUS if this is what you are looking for:
Early spring growth makes it possible to harvest up to 60% of the total yield by the middle of June.
Very high yield enables you to become more self-sufficient
Strong persistence ensures a great output in dry or stressed environments.
Tall Fescue PLUS
Tall Fescue PLUS is an upgrade compared to ordinary tall fescues. Simply put, you mix the best from tall fescues with ryegrass genes, including higher digestibility and faster establishment.
Go faster, higher, stronger with Tall Fescue PLUS:
Faster germination ensures an efficient establishment of the grasses. This leaves no room for weed and reduces the need for herbicides.
Higher digestibility reduces carbon footprint. Here's how. Better digestibility equals a higher forage intake resulting in greater output. E.g. the cow will produce more milk. It will also produce more methane, but the total emission is reduced per litre of milk.
Stronger persistence improves forage quality and output in less favourable conditions. This is great news if you farm in areas with drought or flooding.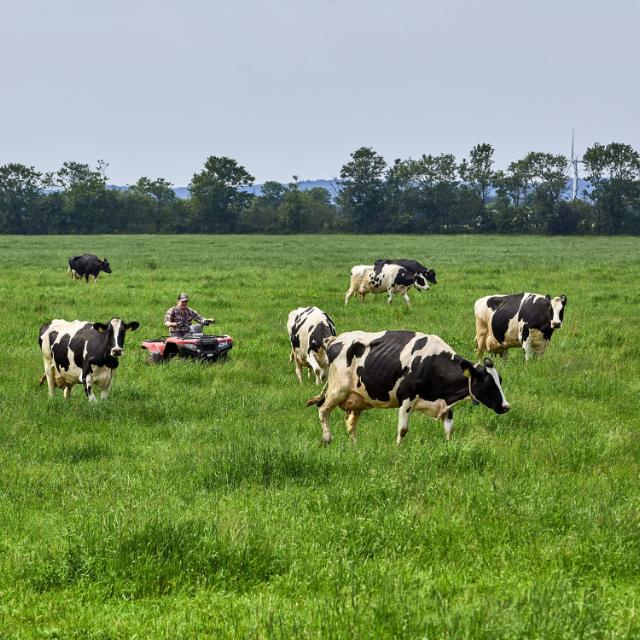 How to get the best of Festulolium
You can use festulolium in many different growing environments – and don't be afraid to mix them with other species.
The fantastic thing about festulolium is there is a variety for every usage need. It is – thanks to the genetic qualities – all-round grasses that successively enrich your forage production. But how? Here is some advice:
Use festulolium in mixtures. Ryegrass PLUS can be used instead of Italian ryegrass, perennial ryegrass or hybrid ryegrass. You should use Tall Fescue PLUS instead of tall fescues. Easy, right?
Mix festulolium with Alfalfa. This can increase dry matter yield by up to 10% compared to the combinations of Alfalfa/Timothy or Alfalfa/Meadow fescue.
Produce an excellent synergy in the field. Festuloliums work perfectly in combination with other species, for example clover, annual ryegrass, cocksfoot and brome.
Find the perfect forage mixture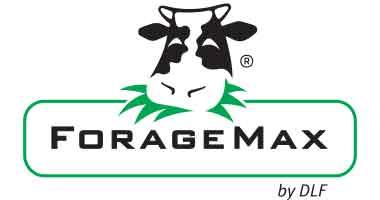 High milk or meat yields are essential for running a profitable farm.
The key to this is to keep your herds well fed with home-grown forage.
With best in class ForageMax mixtures you increase the
nutritional value of your forage and silage.
Need help? Let us know! Select your country - we're happy to help with whatever your request is!
Afghanistan
Albania
Algeria
Andorra
Angola
Antigua and Barbuda
Argentina
Armenia
Australia
Austria
Azerbaijan
Bahamas
Bahrain
Bangladesh
Barbados
Belarus
Belgium
Belize
Benin
Bhutan
Bolivia
Botswana
Brazil
Brunei
Burkina Faso
Burundi
Cabo Verde
Cambodia
Cameroon
Canada
Central African Republic
Chad
Chile
China
Colombia
Comoros
Congo
Costa Rica
Cote d'Ivoire
Croatia
Cuba
Cyprus
Czech
Demogratic Republic of the Congo
Denmark
Djibouti
Dominica
Dominican Republic
Ecuardor
El Salvador
Equartorial Guinea
Eqypt
Eritrea
Estonia
Eswatini
Ethiopia
Fiji
Finland
France
Gabon
Gambia
Georgia
Germany
Ghana
Greece
Grenada
Guatamala
Guinea
Guines-Bissau
Guyana
Haiti
Holy See
Honduras
Hungary
Iceland
India
Indonesia
Iran
Iraq
Ireland
Isreal
Italy
Jamaica
Japan
Jordan
Kazakhstan
Kenya
Kiribati
Kuwait
Kyrgyzstan
Laos
Latvia
Lebanon
Lesotho
Liberia
Libya
Liechtenstein
Lithuania
Luxembourg
Madagascar
Malawi
Malaysia
Maldives
Mali
Malta
Marshall Islands
Mauritania
Mauritius
Mexico
Micronesia
Moldova
Monaco
Mongolia
Morocco
Mozambique
Myanmar
Namibia
Nauru
Nepal
Netherlands
New Zealand
Nicaragua
Niger
Nigeria
North Korea
North Macedonia
Norway
Oman
Pakistan
Palau
Palestine State
Panama
Papua New Guinea
Paraguay
Peru
Philipphines
Poland
Portugal
Qatar
Romania
Russia
Rwanda
Saint Kitts and Nevis
Saint Lucia
Saint Vincent and the Grenadines
Samoa
Sao Tome and Principe
Saudi Arabia
Senegal
Seychelles
Sierra Leone
Singapore
Slovakia
Slovenia
Solomon Islands
Somalia
South Africa
South Korea
South Sudan
Spain
Sri Lanka
Sudan
Suriname
Sweden
Switzerland
Syria
Taiwan
Tajikistan
Tanzania
Thailand
Timor-Leste
Togo
Tonga
Trinidad and Tobago
Tunesia
Turkey
Turkmenistan
Tuvalu
Uganda
Ukraine
United Arab Emirates
United Kingdom
United States of America
Uruguay
Uzbekistan
Vanuatu
Venezuela
Vietnam
Yemen
Zambia
Zimbab