The importance of high-quality seeds for sustainable agricultural production was the founding thought behind DLF in 1906. Since then, innovation, research and development has been the driving force behind delivering seeds for a green future.
There is an increasing need to deliver more with less. Simply put, we must ensure greater quality and productivity in the field with less input. This will help secure a stable food supply and quality of life for a growing population while reducing our environmental and climate footprint. This is our call to action.
We are constantly innovating new and better products ideal for local climatic and environmental conditions. It is not easy, but it is mission critical for a more sustainable and productive tomorrow.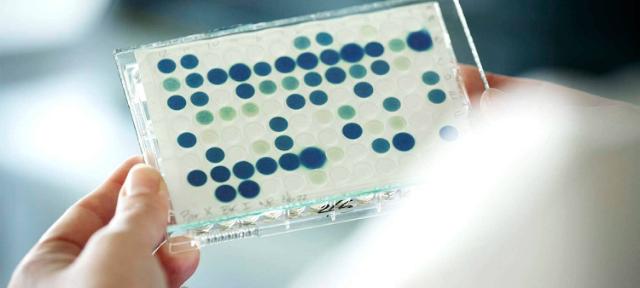 The art of plant breeding
Innovation and plant breeding is the core of our work. Our R&D teams work tirelessly to evaluate multiple generations of plant material and select the right individuals to create the new and better varieties. It's an elimination race - and we always end up with winners.
Innovating new and better products to customers is a tough task. To succeed, a wide range of skilled colleagues collaborate to ensure high-quality data is collected, the right decisions are made, and the best products – that bring value to end-users – progress to commercialization.
All in all, our innovative work is built on a classic combination of leveraging global scale, expert staff, novel technologies and external partnerships.
Local needs call for local seeds
Even the most robust forage and turf seeds are sensitive. What performs fantastic in Northern Europe might not stand a chance in South America.
This is why we have trusted colleagues around the world whose job is to adapt products to local climatic conditions. Globally, we have 25 breeding locations and more than 40 trial sites, which enables us to tailor products for your region.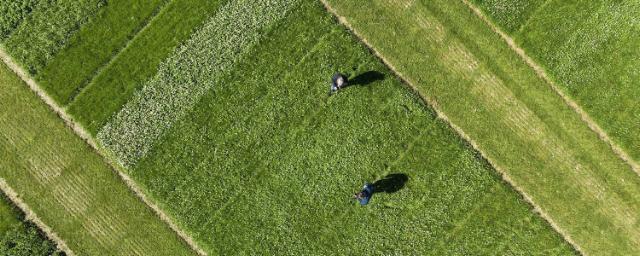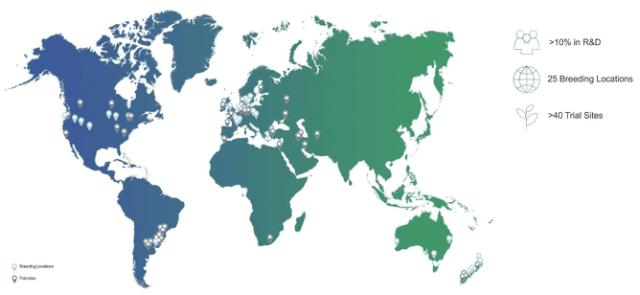 Research across fields
Supplying seed for a greener future is not only about breeding plants that can grow in a specific environment. The real value comes from the performance on a sports field, the milk yield from a cow or the healthy green spaces outside our window.
Our research concentrates on developing sports grasses that are more wear tolerant to increase playing hours, while reducing the level of irrigation water and chemical inputs needed. In the forage sector, we breed for higher fiber digestibility in our products as increased digestibility directly translates into a higher milk production from the same input.
Additionally, we use advanced technologies and dedicated facilities to evaluate forage varieties for reduced environmental impact. Here, we focus on how varieties can contribute to reduced methane emissions and increased robustness to drought or climate extremes.
More than 10 pct.
of our employees work in research and development.
25 breeding locations
around the world help us adapt our seeds to local needs.
More than 40 trial sites
globally to stress-test all our material and ensure performance.
Want to be a part of DLF?
Our employees are our greatest assets, and we are always looking for new talents to develop new and existing roles within the company. Let's grow together!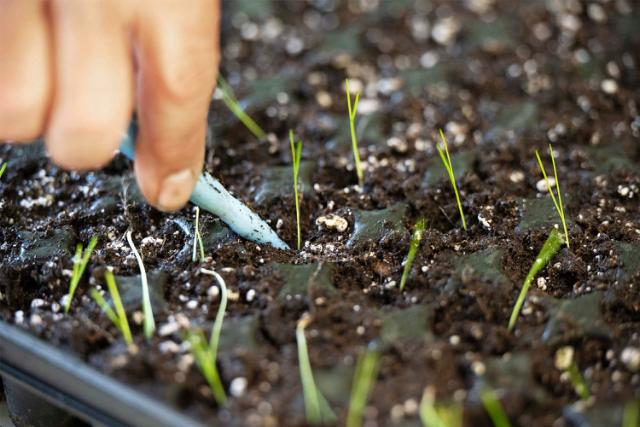 A sneak peek into the future
Nobody really knows what the future looks like, but we try constantly to predict it. We have to, because the creation of a new variety typically takes 7-10 years. A lot can happen in such a period – like the climate changes we observe right now. Luckily, our global presence enables us to react fast to sudden market needs as we can embark on varieties and knowledge created in areas that have already faced similar challenges before.
We are always on our toes to reach further – utilizing the latest technologies in AI, remote sensing, and advanced genetic analysis. These tools help us breed faster and more precisely than we ever could before. Instead of facing challenges, we can take advantage of them and learn how to develop crops and turf for what is to come tomorrow.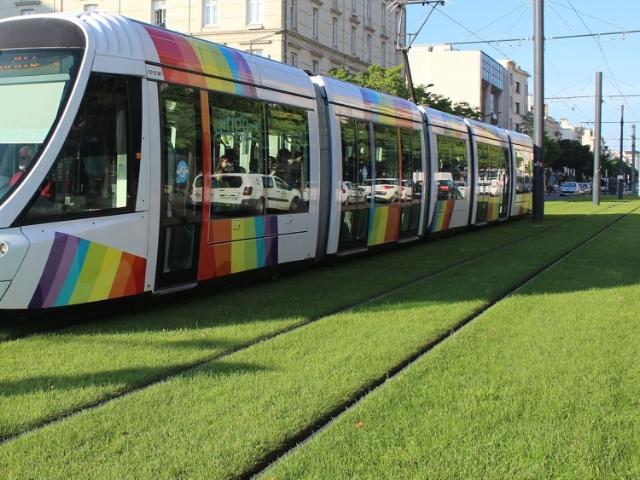 Who would have thought small seeds could make such a big difference?
Innovation, imagination and lots of collaboration
Bringing together diverse expertise and resources ensures even better outcomes. That is why we are excited to house some of the most skilled people in the business – and collaborate with leading institutions in the development of new products and technologies. This includes Copenhagen University and Aarhus University in Denmark, AgResearch in New Zealand, INIA in South America and Rutgers University in North America. Aside from these tight relations our collaborations extend to more than 30 international academic research institutions. These partnerships help us co-develop better products for local markets.
Challenge accepted
Supplying more sustainable grasses, clovers, beets and other crops across the temperate climate is a huge task. Some would say it is almost impossible with climate changes that are already ongoing. But this is what we do – the impossible art of improving the future – with nature's own code: Genetics.
Need help? Let us know! Select your country - we're happy to help with whatever your request is!
Afghanistan
Albania
Algeria
Andorra
Angola
Antigua and Barbuda
Argentina
Armenia
Australia
Austria
Azerbaijan
Bahamas
Bahrain
Bangladesh
Barbados
Belarus
Belgium
Belize
Benin
Bhutan
Bolivia
Botswana
Brazil
Brunei
Burkina Faso
Burundi
Cabo Verde
Cambodia
Cameroon
Canada
Central African Republic
Chad
Chile
China
Colombia
Comoros
Congo
Costa Rica
Cote d'Ivoire
Croatia
Cuba
Cyprus
Czech
Demogratic Republic of the Congo
Denmark
Djibouti
Dominica
Dominican Republic
Ecuardor
El Salvador
Equartorial Guinea
Eqypt
Eritrea
Estonia
Eswatini
Ethiopia
Fiji
Finland
France
Fr�avl
Gabon
Gambia
Georgia
Germany
Ghana
Greece
Grenada
Guatamala
Guinea
Guines-Bissau
Guyana
Haiti
Holy See
Honduras
Hungary
Iceland
India
Indonesia
Iran
Iraq
Ireland
Isreal
Italy
Jamaica
Japan
Jordan
Kazakhstan
Kenya
Kiribati
Kuwait
Kyrgyzstan
Laos
Latvia
Lebanon
Lesotho
Liberia
Libya
Liechtenstein
Lithuania
Luxembourg
Madagascar
Malawi
Malaysia
Maldives
Mali
Malta
Marshall Islands
Mauritania
Mauritius
Mexico
Micronesia
Moldova
Monaco
Mongolia
Morocco
Mozambique
Myanmar
Namibia
Nauru
Nepal
Netherlands
New Zealand
Nicaragua
Niger
Nigeria
North Korea
North Macedonia
Norway
Oman
Pakistan
Palau
Palestine State
Panama
Papua New Guinea
Paraguay
Peru
Philipphines
Poland
Portugal
Qatar
Romania
Russia
Rwanda
Saint Kitts and Nevis
Saint Lucia
Saint Vincent and the Grenadines
Samoa
Sao Tome and Principe
Saudi Arabia
Senegal
Seychelles
Sierra Leone
Singapore
Slovakia
Slovenia
Solomon Islands
Somalia
South Africa
South Korea
South Sudan
Spain
Sri Lanka
Sudan
Suriname
Sweden
Switzerland
Syria
Taiwan
Tajikistan
Tanzania
Thailand
Timor-Leste
Togo
Tonga
Trinidad and Tobago
Tunesia
Turkey
Turkmenistan
Tuvalu
Uganda
Ukraine
United Arab Emirates
United States of America
Uruguay
Uzbekistan
Vanuatu
Venezuela
Vietnam
Yemen
Zambia
Zimbab