ProNitro
Give your seeds a packed lunch full of nitrogen. Everybody needs good nutrition to grow. Grass seeds are no exception. That's why we send our ProNitro® coated seeds into the world with a packed lunch full of nitrogen that will fuel germination and growth. With ProNitro® you give your seeds a head start. The seed coating combines slow and fast-release nitrogen and there is no need for fertiliser during the first month because all the nitrogen your grass needs for early establishment comes ready-wrapped around the seed.
Improved emergence and density
The fast and strong start of ProNitro seeds gives long term benefits. We know because we have tested – again and again. Every time results show improved emergence and grass density. And forage yields can be anything from 5% to 20% higher already in the first year.
Here is why ProNitro gives better results:
The green ProNitro® coating reduces losses through bird picking
Bigger and heavier seeds ensure a better contact with the soil surface
Feeds the seeds, not the weeds. Fertilizer goes directly to place it is needed, so grass roots are able to use nutrients more efficiently.
Fast emergence means that plants grow stronger in their early stage, have 30% longer roots, and improved stress-tolerance. The result is an average of 30% more plants.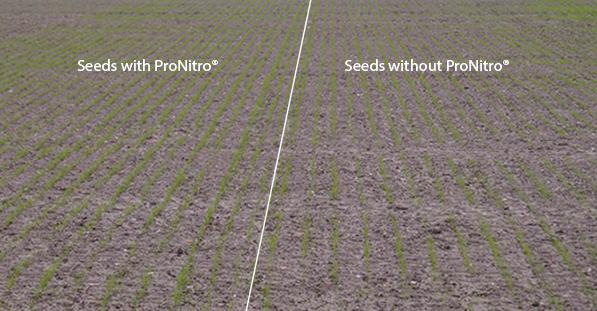 Save time and boost milk yields
The unique combination of fast and slow-release of nitrogen means that blades of grass emerge stronger and more densely. Because the nitrogen is carefully wrapped around each seed in an easily accessible format, the fast germinating grass seed can tap into it straight away. This way you give your field a head start that leads to increased forage and milk yields.
Sowing with ProNitro is also time-saving. ProNitro® combines seeding and fertilizing in a single step.
Every coated seed brings to the field 10% of its weight as pure Nitrogen.
Keep your output high with overseeding
With its fast establishment and fertilizer coating ProNitro® is very suitable for overseeding. Even on the best-managed grassland, output declines year by year as weed species take hold. In the second year, for example, it is not unusual to see a drop in yield of 10% to 15%. The forage quality also declines because the nutritional value of weed species is lower than that of specially developed pasture species.
The best solution is to reseed with a new ley, but that is not always possible nor desirable. If so, overseeding with an appropriate mixture, such as GrassMax, is a relatively low-cost way to revitalise your sward.
Buying treated seeds is a sound investment
Trials with ProNitro® treated seeds
UK, Lincolnshire, Scarborough
The Netherlands, Landhorst
Seed mixture: 50/50 diploid and tetraploid perennial ryegrass
Sowing date: 18 October 2014
Two weeks after sowing, ProNitro® seedlings were taller and darker than the control. The effect was visible all the way through till the final field assessment undertaken five weeks after sowing.
The following spring the height of the ProNitro® plants was more uniform than the control. The denser sward also suppressed Poa annua infestation, measured in May 2015 at just 5% in the ProNitro® strips compared to 10% in the control.
Find the perfect forage mixture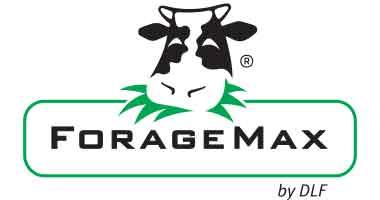 High milk or meat yields are essential for running a profitable farm.
The key to this is to keep your herds well fed with home-grown forage.
With best in class ForageMax mixtures you increase the
nutritional value of your forage and silage.
Need help? Let us know! Select your country - we're happy to help with whatever your request is!
Afghanistan
Albania
Algeria
Andorra
Angola
Antigua and Barbuda
Argentina
Armenia
Australia
Austria
Azerbaijan
Bahamas
Bahrain
Bangladesh
Barbados
Belarus
Belgium
Belize
Benin
Bhutan
Bolivia
Botswana
Brazil
Brunei
Burkina Faso
Burundi
Cabo Verde
Cambodia
Cameroon
Canada
Central African Republic
Chad
Chile
China
Colombia
Comoros
Congo
Costa Rica
Cote d'Ivoire
Croatia
Cuba
Cyprus
Czech
Demogratic Republic of the Congo
Denmark
Djibouti
Dominica
Dominican Republic
Ecuardor
El Salvador
Equartorial Guinea
Eqypt
Eritrea
Estonia
Eswatini
Ethiopia
Fiji
Finland
France
Fr�avl
Gabon
Gambia
Georgia
Germany
Ghana
Greece
Grenada
Guatamala
Guinea
Guines-Bissau
Guyana
Haiti
Holy See
Honduras
Hungary
Iceland
India
Indonesia
Iran
Iraq
Ireland
Isreal
Italy
Jamaica
Japan
Jordan
Kazakhstan
Kenya
Kiribati
Kuwait
Kyrgyzstan
Laos
Latvia
Lebanon
Lesotho
Liberia
Libya
Liechtenstein
Lithuania
Luxembourg
Madagascar
Malawi
Malaysia
Maldives
Mali
Malta
Marshall Islands
Mauritania
Mauritius
Mexico
Micronesia
Moldova
Monaco
Mongolia
Morocco
Mozambique
Myanmar
Namibia
Nauru
Nepal
Netherlands
New Zealand
Nicaragua
Niger
Nigeria
North Korea
North Macedonia
Norway
Oman
Pakistan
Palau
Palestine State
Panama
Papua New Guinea
Paraguay
Peru
Philipphines
Poland
Portugal
Qatar
Romania
Russia
Rwanda
Saint Kitts and Nevis
Saint Lucia
Saint Vincent and the Grenadines
Samoa
Sao Tome and Principe
Saudi Arabia
Senegal
Seychelles
Sierra Leone
Singapore
Slovakia
Slovenia
Solomon Islands
Somalia
South Africa
South Korea
South Sudan
Spain
Sri Lanka
Sudan
Suriname
Sweden
Switzerland
Syria
Taiwan
Tajikistan
Tanzania
Thailand
Timor-Leste
Togo
Tonga
Trinidad and Tobago
Tunesia
Turkey
Turkmenistan
Tuvalu
Uganda
Ukraine
United Arab Emirates
United States of America
Uruguay
Uzbekistan
Vanuatu
Venezuela
Vietnam
Yemen
Zambia
Zimbab