THE ROOT TO BETTER, STRONGER, AND GREENER TURF
Managing turf is becoming increasingly demanding with changing environmental and climatic conditions. To meet these changing needs, we have screened grass varieties to see which can grow better under difficult conditions like spring and early summer drought, and use nutrients more efficiently to improve the strength and health of the plant. Our research on grass root architecture shows that strong roots are essential and can help you future-proof your business.
Through our extensive global R&D network, we have invested significant resources in studying the root architecture of our grass varieties. Our state-of-the-art RadiMax root screening facility, has played a crucial role in acquiring unique insights into the nature of root systems. The findings have consistently demonstrated that grass varieties with deep and extensive root systems exhibit superior resilience in the face of changing environmental and climatic conditions, particularly during periods of drought.
The advantages of deep-rooted grass varieties are twofold. Firstly, they provide a strong foundation for the turf, ensuring enhanced stability and durability, making the playing surface more suitable for extended hours of play. Secondly, their improved access to water and nutrients allows them to maintain a lush and appealing appearance, even in challenging conditions.
Furthermore, these deep-rooted grass varieties contribute to significant environmental benefits. By establishing a larger root mass and reaching deeper into the soil, they enhance carbon sequestration aiding in the mitigation of greenhouse gas emissions. Additionally, their ability to withstand drought reduces the reliance on irrigation, resulting in significant cost savings and reduced water consumption.
Our in-depth understanding of root architecture and its correlation with the performance of grass, has enabled us to offer grass varieties that are specifically bred to meet the demands of changing environmental and climatic conditions. By selecting grasses with robust and deep-rooted characteristics, we can help our customers achieve sustainable and resilient turf solutions that deliver both functional and aesthetic benefits.
A deep root mass means:
Better growth and greater resilience towards early summer drought
Less repair and more playing hours
Better visual appearance and less maintenance
Less input of resources such as water and fertilizer
About Radimax
In collaboration with University of Copenhagen, DLF is conducting groundbreaking research on the root architecture of grasses using RadiMax, a cutting-edge root screening facility. Understanding root architecture is especially important during times of drought, as deeper layers of soil store more water. Another important factor in terms of plant establishment is fast root growth.
By employing RadiMax, we are able to analyze root architecture to a depth of 3 meters, while also using a controlled soil moisture gradient to subject the grass to varying levels of drought. This allows us to evaluate root architecture of our grass varieties and identify those that exhibit the highest level of resilience and the best visual appearance in drought conditions.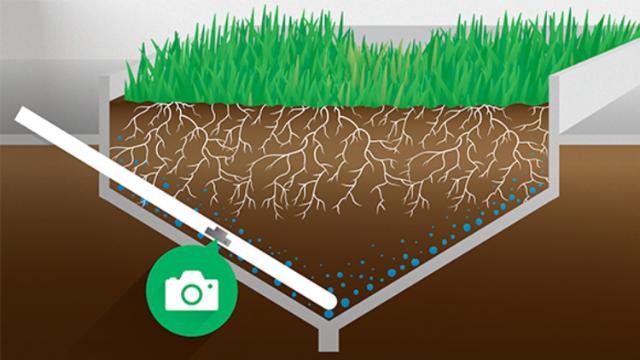 Seeds coated with ProNitro® have what it takes to prepare for a spring drought
Turf managers can eliminate the risk of losing newly sown turf to spring drought by utilizing our innovative ProNitro® seed coating. This advanced technology provides essential and targeted nutrition to nurture delicate new plants, promoting vigorous growth, and deeper root development. Faster establishment and a remarkable 30% increase in root length can be achieved by incorporating ProNitro-coated seeds into turf management. This significant enhancement in root growth equips the plants with an increased ability to withstand and overcome challenging spring drought conditions, ensuring their survival and long-term vitality.
Need help? Let us know! Select your country - we're happy to help with whatever your request is!
Afghanistan
Albania
Algeria
Andorra
Angola
Antigua and Barbuda
Argentina
Armenia
Australia
Austria
Azerbaijan
Bahamas
Bahrain
Bangladesh
Barbados
Belarus
Belgium
Belize
Benin
Bhutan
Bolivia
Botswana
Brazil
Brunei
Burkina Faso
Burundi
Cabo Verde
Cambodia
Cameroon
Canada
Central African Republic
Chad
Chile
China
Colombia
Comoros
Congo
Costa Rica
Cote d'Ivoire
Croatia
Cuba
Cyprus
Czech
Demogratic Republic of the Congo
Denmark
Djibouti
Dominica
Dominican Republic
Ecuardor
El Salvador
Equartorial Guinea
Eqypt
Eritrea
Estonia
Eswatini
Ethiopia
Fiji
Finland
France
Fr�avl
Gabon
Gambia
Georgia
Germany
Ghana
Greece
Grenada
Guatamala
Guinea
Guines-Bissau
Guyana
Haiti
Holy See
Honduras
Hungary
Iceland
India
Indonesia
Iran
Iraq
Ireland
Isreal
Italy
Jamaica
Japan
Jordan
Kazakhstan
Kenya
Kiribati
Kuwait
Kyrgyzstan
Laos
Latvia
Lebanon
Lesotho
Liberia
Libya
Liechtenstein
Lithuania
Luxembourg
Madagascar
Malawi
Malaysia
Maldives
Mali
Malta
Marshall Islands
Mauritania
Mauritius
Mexico
Micronesia
Moldova
Monaco
Mongolia
Morocco
Mozambique
Myanmar
Namibia
Nauru
Nepal
Netherlands
New Zealand
Nicaragua
Niger
Nigeria
North Korea
North Macedonia
Norway
Oman
Pakistan
Palau
Palestine State
Panama
Papua New Guinea
Paraguay
Peru
Philipphines
Poland
Portugal
Qatar
Romania
Russia
Rwanda
Saint Kitts and Nevis
Saint Lucia
Saint Vincent and the Grenadines
Samoa
Sao Tome and Principe
Saudi Arabia
Senegal
Seychelles
Sierra Leone
Singapore
Slovakia
Slovenia
Solomon Islands
Somalia
South Africa
South Korea
South Sudan
Spain
Sri Lanka
Sudan
Suriname
Sweden
Switzerland
Syria
Taiwan
Tajikistan
Tanzania
Thailand
Timor-Leste
Togo
Tonga
Trinidad and Tobago
Tunesia
Turkey
Turkmenistan
Tuvalu
Uganda
Ukraine
United Arab Emirates
United States of America
Uruguay
Uzbekistan
Vanuatu
Venezuela
Vietnam
Yemen
Zambia
Zimbab